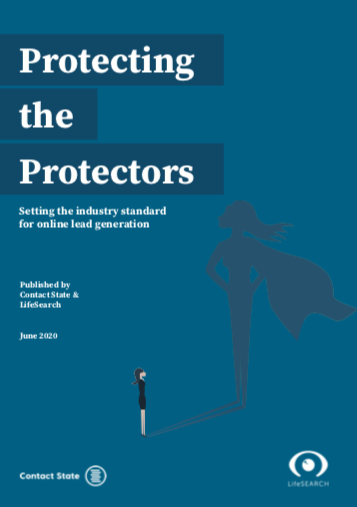 Setting the industry standard for online lead generation
By Contact State and LifeSearch
A successful and expanding life insurance market is developing growing pains in the shape of fraudulent advertising, misleading marketing and mishandled consumer data. Many within the protection industry question whether lead generation - the process of advertising to and then introducing a consumer to an intermediary - is making the industry more accessible to the general public or merely commodifying and reducing the value of an insurance policy.

This paper recommends that the risks posed by using online lead generation can be mitigated and controlled by setting a universal standard of data exchange and certification, that will enforce transparency from the first click to the sale of a policy.
That unless the insurance industry changes direction, large intermediaries and insurer partners are at serious risk of being investigated by the Advertising Standards Authority (ASA) and the Information Commissioner's Office (ICO).

How some life insurance lead generation firms use fraudulent short term tactics; misleading advertising, resell consumer data and impersonate insurance brands.

That disreputable lead generation activity is driving clawback rates and increasing industry bad debt.
and makes a number of recommendations
The Life Insurance industry must accept that without clearer guidance to intermediaries about what is expected and allowed of the online lead generation process, existing advertising and compliance rules will continue to be broken.

Industry wide third party certification of every generated lead would provide independent verification for every consumer journey and would allow the intermediary to constantly audit and challenge adverts used to introduce them to consumers.

The most appropriate way to change the balance of power within financial advertising is to ensure that lead generation adverts can only run with backing of the buyer of the lead.
We provide monthly insights about advertising, data and lead generation trends.
Subscribe to receive our newsletter, The Leader, in your inbox